Chill Out With The Portable Air Cooler That
Beats the Summer Heat FAST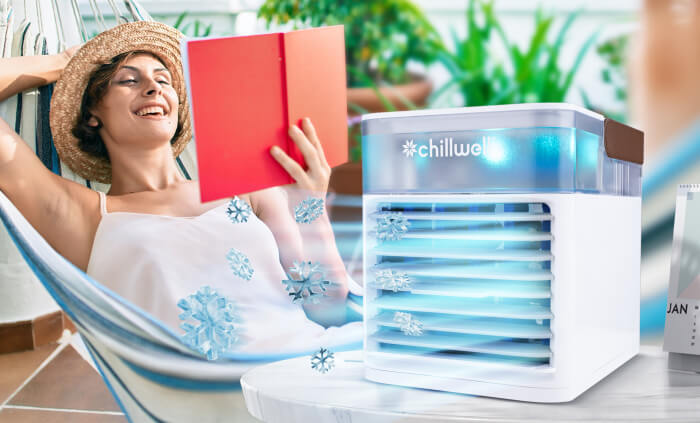 Cost-Friendly Cooling For At Home, The Office, Or Absolutely Anywhere
If you could stay comfortably cool all summer long without having to crank your expensive home air conditioning, would you do it?
Of course you would! Who wouldn't?!
Well this genius new startup just launched a breakthrough technology that promises to
cool you down without relying on your expensive home air conditioning.
During the sweltering summer, you could be paying a couple hundred bucks (or more!) every single month.
Historically, new heating & air conditioning equipment costs increase between 5% to 9% annually.
In fact, several AC manufacturers had as many as 5 price increases in 2021 alone!
No one has thousands of dollars of extra cash lying around to just throw it away to greedy electric companies.
Stop throwing away cash with your home AC.
The Cost-Friendly Solution To Expensive Home AC
When Mother Nature cranks up the summer heat you don't need to turn up your energy-gulping home AC.
Designed to be
lightweight and portable for room-to-room cooling, ChillWell AC uses 'evaporation cooling'
to cool you down in the summer heat.
Here's just a few of the exciting features that makes
ChillWell AC
the best alternative to your pricey home AC:
3-In-1 Versatility
As versatile as it is powerful, ChillWell AC can create a cooling breeze or it can be switched to run as a normal fan. It also doubles as a humidifier and is great for alleviating dry air and stuffy sinuses.
Adjustable Fan Strength
Choose from Turbo, High, Medium, and Low fan speed settings, or choose the Turbo button for maximum fan power and cooling. You can even use the air direction tab on the front of the device to adjust the airflow direction.
Easy-To-Replace Cooling Cartridge
Soak the replaceable cooling cartridge in water (and freeze it for even greater cooling), slip it into the AC unit, and get ready to chill out! The cartridge  lasts 1-3 months and is super easy to change.
Lightweight & Portable
Get comfortably cool no matter where you are. The lightweight design of
ChillWell AC
allows you to pick it up and take it with you to any room. No sweat!
Convenient USB Charging
ChillWell AC
is equipped with a long-lasting battery that recharges with a USB-C cable. Get hours of cooling from this high-performance device.
Warm Mood Lighting
Enjoy warm mood lighting with the touch of a button. Choose between solid blue, red, white, teal, purple, yellow, green, or cycle through them all on auto-mode.
The Future Of Home Cooling
Why rely on the inefficient, costly cooling methods of yesteryear?
The portable
ChillWell AC
costs just pennies to run but it cools you down, fast.
At-home air conditioning is not only extremely overpriced, but it takes a long time to kick in and it cools down the WHOLE house, even if you just want a cool bedroom.
ChillWell AC
is designed for
room-to-room cooling comfort.
You can charge the battery and
take this refreshing air chiller anywhere
you need to beat the heat.
The portable design can be taken literally anywhere.
And unlike other mini AC units,
ChillWell AC
has THOUSANDS of 5-star reviews from excited customers who can't get enough of this portable breeze machine.
Merging the highest-performance with an unbeatable price, it's no wonder this air cooler sells out so fast.
The Seven-Day Sweat Test
Jason [the tech-expert] put ChillWell AC to the test.
Our tech review expert, Jason, put
ChillWell AC
to a 7-day test to see if this device was worth all the hype it's getting.
Since we're located in the American southwest, it's the perfect environment to really see if
ChillWell AC
beats the heat!
Here's what he reported back to us:
Turned on ChillWell AC and immediately felt a cool breeze!
A few moments later I felt a few goosebumps.
No complaints! Not even one yet.
I've been using it by my bedside and I sleep so much better now.
Whisper-quiet operation is a HUGE plus.
Lightweight and portable design is easy to take with me to any room.
I'm keeping my ChillWell AC. I can't live without this thing.
I didn't need my home AC all week and I've been cool as a cucumber.
I can see why these AC units sell out so fast.
ChillWellAC is the real deal for cool comfort.
People Everywhere Love ChillWell AC
Everyone loves the cooling power of ChillWell AC.
Get Your Own ChillWell AC WHILE YOU CAN!
Make a friend or family member so much cooler with a ChillWell AC.
ChillWell ACs sell out FAST. If you're able to get your hands on one, do it immediately!
The company is currently offering this awesome air chiller for a one-time 55% OFF discount to celebrate the start of summer
Limited-Time ChillWell AC Offer
More Satisfied Users
Chill Out With A 55% OFF Discount